Publish: March 13, 2017 Category: 最新消息 No Comments
Secondary organic aerosol formation from propylene irradiations in a chamber study
通过烟雾箱实验证实丙烯可以在颗粒水中生成二次有机气溶胶,并发现NaCl颗粒中Cl参与了二次有机颗粒物的形成。
Highlights:
1.Formation of SOA from propylene is confirmed for the first time.
2.Main chemical compositions of propylene SOA are determined.
3.Participation of Cl atoms in the formation of SOA is determined.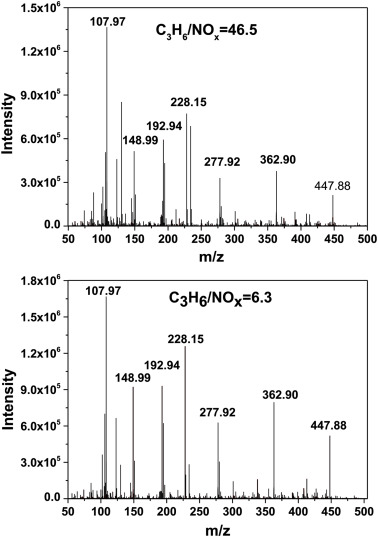 ESI-Exactive-Orbitrap MS results of SOA from propylene
Full text on line
Ge Shuangshuang, Xu Yongfu, Jia Long. Secondary organic aerosol formation from propylene irradiations in a chamber study. Atmospheric Environment, DOI:10.1016/j.atmosenv.2017.03.019